News
U-20: Poles beat Italy
05 / 03 / 14 Author: PZPN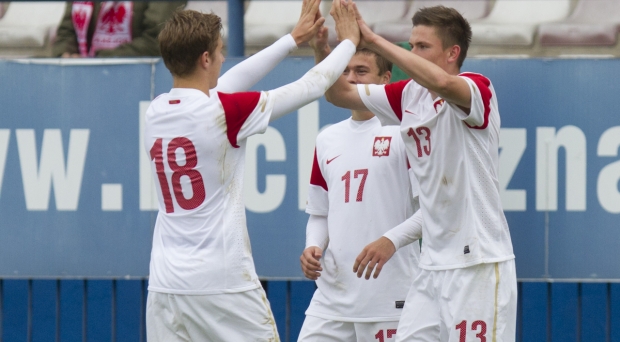 Polish under-20 team won with Italy 1:0 in a match within the Four Nations Tournament. Łukasz Zwoliński scored in the 12th minute of the game.
---
Włochy – Polska 0:1 (0:1)
Goal: Łukasz Zwoliński 12.
Italy: Raffaele Di Gennaro – Simone Pecorini (75, Andrea Conti), Francesco Vicari (46, Edoardo Goldaniga), Federico Barba, Cristian Dell'Orco – Vincenzo Grifo, Massimiliano Busellato (70, Antonio Palma), Valerio Verre (46, Andrea Schiavone), Matteo Ricci (46, Federico Ricci) – Guido Gomez (70, Stefano Padovan), Valerio Rosseti (62, Luca Forte).
Poland: Michał Szromnik – Patryk Fryc, Seweryn Michalski, Krystian Nowak, Fabian Hiszpański – Kamil Włodyka (46, Jakub Bąk), Mateusz Długołęcki (46, Martin Kobylański), Michał Nalepa, Szymon Drewniak (57, Radosław Murawski), Patryk Mikita (89, Konrad Stępień) – Łukasz Zwoliński (62, Dominik Kun).
Yellow cards: Vicari, Dell'Orco – Michalski, Hiszpański.
Referee: Robert Kampka (Germany).