News
National Team A
Robert Lewandowski: time to dispel all doubts
22 / 11 / 22 Author: PZPN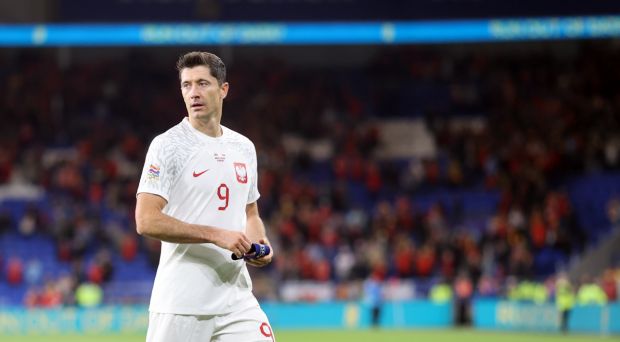 In club football, Robert Lewandowski has achieved virtually everything. He can boast victories in the Champions League and the Club World Cup as well as more than ten top scorer titles in various tournaments. In Qatar, however, he has something more to prove: the ability to lead the national team to a successful performance in the World Cup, something he has so far been unable to do.
---
One would be hard-pressed to find a moment in Robert Lewandowski's career when his development slowed down. Ever since his transfer from Znicz Pruszków to Lech Poznań, the career of the captain of the Polish national team has been a constant rising tide. After his transfer to Borussia Dortmund, he immediately become one of the best strikers in the Bundesliga. With his team at the time, he won two German championships, one domestic Cup and one Super Cup, made the Champions League finals and became the league's top scorer. After being transferred to Bayern Munich, he confirmed his class over the following years, becoming one of the absolute top players in the world. His assets and development are noticed by Bjarne Goldbæk, a Danish player with 28 appearances in the Danish national team, who formerly played for such clubs as FC Schalke 04 and Chelsea FC and shared the locker room with such players as brothers Brian and Michael Laudrup. "Ever since his first appearance in the Bundesliga, Robert has been developing each and every year," says Goldbæk in an interview for the United by Football website. "He has definitely become a more useful player in the context of how the entire team plays. He is no longer just an executor, but also helps to play the ball. He is excellent in protecting the ball, he tries to set up the team," lists Goldbæk.
Paweł Kryszałowicz agrees with Goldbæk. The former player for the Polish national team, who scored a goal for the White and Reds during the 2002 World Cup, notes that it is hard to name any aspect of Lewandowski that wouldn't be at the highest level. "As a 'nine', he really is an absolutely complete striker. He can not only finish moves, when the ball is seeking him, but is also capable of combination play. He is incredibly strong and very fast. When it comes to Robert, it is impossible to say what he is the best in, as he has perfected nearly every aspect," says the 33-time player for the Polish national team.
Robert Lewandowski certainly impresses the entire football community with his attitude not only on the pitch, but also off the pitch. His self-awareness and willingness to work on each and every element which can be beneficial on the turf are on a very high level. That Lewandowski has not suffered any injuries over so many years of playing at the top level is certainly no accident. "Robert is constantly working hard, because he is aware that maintaining form is not limited to just training with his team in the club. Individual work is also very important. One must not forget about appropriate regeneration and nutrition. Robert is great at this and that is why he has virtually no problems with injuries. Even if he is out, it's just for one, sometimes two matches. This is often caused by fatigue, as he is heavily utilised both in his club and in the national team; the process of deciding the squad starts with him," notes Kryszałowicz.
Despite playing in so many matches, the captain of the Polish national team does not lower his sights. Whenever the opportunity presents itself, he mercilessly exploits his opponents' weaknesses and directs the ball into the goal, regardless of whether he wears the uniform of Barcelona or of the national team. Although he has multiple top scorer titles under his belt and continues to break new records, he still seems insatiable. It's not just about seeking new challenges, which is the reason he left Bayern Munich, but also about self-development. He keeps adding new weapons into his arsenal of skills, which makes him even more dangerous. "Lewandowski has incredible sense of space and amazing speed. It doesn't make much difference to him which leg he uses to shoot; he has great quality in both. Every second of his play is marked by high determination, which is what distinguishes the best players," says Bjarne Goldbæk.
All this, put together, makes Lewandowski strike fear into the hearts of defensive lines throughout the world. Regardless of whether he faces the Gibraltar national team or Real Madrid, he causes massive problems for defenders. "In one-on-one situations, the defending player has basically no chance against Lewandowski," claims Stefan Majewski, former defender for the national team and World Cup medallist. "The speed and dynamic play of 'Lewy' mean that he can only be opposed by an equally fast defender. And those are few and far between. Robert can read the game and knows exactly where to position himself; he has the ability to predict where the ball will fall. This is what distinguishes the best strikers in the world. He also works for the entire team. Even when he does not receive a pass himself, he keeps the defenders' attention, making things easier for his teammates. This is visible in Barcelona even more than it was in Bayern," he adds.
"Robert has developed the ability to lose defenders with incredible ease. He moves within the penalty area like a fox and is capable of losing defenders in a fraction of a second. Add to that the incredible instinct for finishing moves and smooth play using his both legs and his head and we have a real phenomenon. There basically is no pass into the penalty area that Robert couldn't handle. A real nightmare for the defenders," stresses Marcin Żewłakow, 25-time player for the Polish national team.
The new records that Lewandowski keeps breaking and the trophies he keeps winning spark a debate among many fans whether the current captain of the Polish national team is already the best player in the history of Polish football. The proponents of this thesis emphasise Lewandowski's incredible achievements in club football, while its opponents point out that he has had no comparable success with the national team. "It is very hard to compare different periods in football. Football used to be played in a different way, we also had fantastic players, such as Kazimierz Deyna or Zbigniew Boniek. Assessment is an individual matter. Others might disagree, but I believe that Lewandowski is the best Polish footballer in history," says Paweł Kryszałowicz. "I do not compare players from different times, because that's impossible. It's a bit like literature: every era has its most outstanding representatives. Robert in football is the national bard of his times," colourfully describes Marcin Żewłakow.
And indeed, for Robert Lewandowski, the only achievement left is a good result accomplished with the Polish national team at the World Cup. He made his debut in the national team in 2008, but the White and Reds did not make the 2010 and 2014 World Cups in South Africa and Brazil. "Lewy's" first opportunity to play in the World Cup came only in 2018, ten years after his debut. However, Polish fans have no fond memories of the World Cup in Russia, as the team, then managed by Adam Nawałka, failed to advance beyond the group stage. This time is supposed to be different. The eyes of the entire world will be focused especially on the duel between Lewandowski and Lionel Messi, but the captain of the Polish national team has much to prove in every subsequent match. We hope that in Qatar he will lead the White and Reds to a great success.