News
National Team A
Czesław Michniewicz: Bittersweet point
22 / 11 / 22 Author: PZPN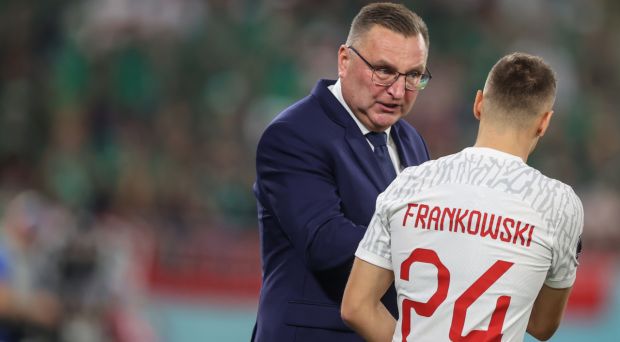 "This is a bittersweet point and it leaves many options open. The draw in the first match still keeps both us and the Mexicans in contention. And this is the most important thing right now," said Czesław Michniewicz, the head coach of the Polish national team, right after the match against Mexico (0-0).
---
The White-and-Reds kicked off their World Cup Qatar campaign with a goalless draw. At the beginning of the press conference, the Poland head coach was asked about how the match had unfolded: "It was a very tight and hard-fought match against a difficult opponent. Both teams failed to create many chances, but we received a penalty at just the right time. It's a pity we didn't score because we dreamed of winning the match. Everything is up to us ahead of the next matches.
Robert Lewandowski's penalty miss was, in fact, the highlight of the Tuesday match. The head coach spoke about the penalty and how the White-and-Reds captain felt: "It would be best to allow Robert himself to tell us more about the penalty. He scored all penalties in training yesterday. I feel for Robert because I know how much he wanted to score a goal at the World Cup. You could see that he was distressed by the penalty miss in the dressing room after the match. He watched his shot on dressing room screens. He himself knows best what to do now. We will support Robert and are confident that he will have more opportunities to help the team in this tournament. He had a difficult task today because he was constantly marked by two Mexicans, who kept challenging him.
The head coach admitted that he still believed to pull a win against the Mexicans after the penalty miss: "At such times, it is vital to bring the mental game back where it should be to avoid conceding a goal. I knew that the match was not over yet and we could still win it, so I decided to sub Arkadiusz Milik in for the final minutes. It would be a sin not to have him play.
Poland's starting 11 on Tuesday featured several young players with just a few caps. "I know that they were a bit nervous before the match. Nicola Zalewski was one of them because he usually plays better than he did today. Kuba Kamiński, however, played better by the minute. With the match nearing the end, we considered subbing him for Kamil Grosicki or Michał Skóraś, but "Kamyk" said he felt excellent," said Michniewicz. "I am glad that these young players are gaining experience. To me, Kuba Kiwior did not play worse than Kamil Glik, who had just played his 100th cap. He's one of those who have gained a lot when it comes to our national team over the last months. We finally have a left-footed centre-back. I am 100% sure that the future of the Polish national team plays in this tournament.
In another Group C match played earlier that day, Saudi Arabia surprisingly won 2-1 against Argentina, one of the favourites to lift the World Cup trophy. That result meant the situation in our group had taken a very interesting turn even before the match against Mexico. "We'll now take on Saudi Arabia, which has just pulled out a giant upset in our group. In the coming days, we are going to focus on what Saudi Arabia showed against Argentina," ended Michniewicz.