News
Last minute tie
23 / 04 / 14 Author: PZPN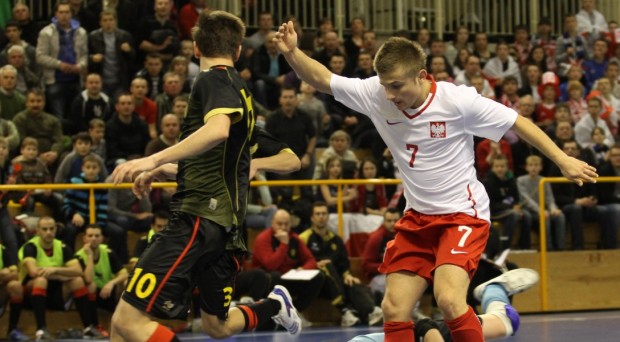 Almost three thousand spectators who gathered in the sports hall in Lublin witnessed exciting ending of the first friendly match between Poland and Romania which ended up in a 3:3 tie.
---
After the first half, the white and red team was losing against the quarter-finalists of the last Euro 0:2. At the beginning of the second half, Daniel Krawczyk scored a goal changing the score to 1:2, but in the 24. minute the Romanians scored their third goal.
However, the ending of the meeting belonged the coach Andrea Bucciol's players. In the 36. minute, Marcin Mikołajewicz shot at the goal and scored, reducing the Romanian lead to 3:2. By then, the Poles didn't have anything to lose. They had to attack and it was worth it! The white and red team decided to play with flying goalkeeper and three seconds before the final whistle they used their numerical dominance leading to 3:3 tie. The tie-worth goal was scored by Paweł Budniak.
"It was a really good match, played in a wonderful atmosphere. We achieved the tie, even though judging by the course of the game, we were the better team. We are rejoicing, because we can see the progress. Nevertheless, we keep our concentration, because ahead of us is tomorrow's rematch," said after the match Kazimierz Greń, the president of PZPN's Futsal and Beach Soccer Committee.
Unfortunately, Marcin Kiełpiński paid the price of injury for today's match. However, tomorrow, Artur Popławski and Dominik Śmiałkowski should be at coach Bucciol's disposal. Thursday's rematch will be played in Chełm in MOSiR's hall at ul. Graniczna 2A. Start at 5 pm.