News
The goalkeeper secured the tie for Cyprus
14 / 03 / 14 Author: MR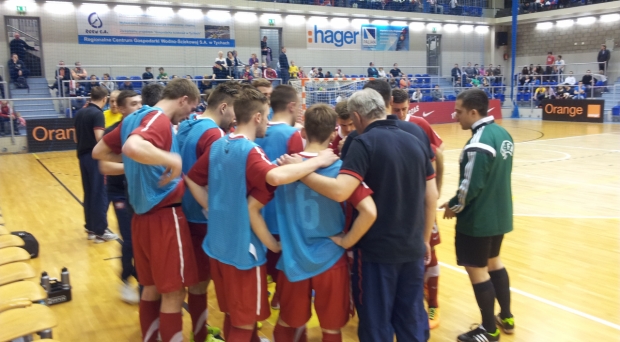 The Polish national futsal team players once again were not able to break the spell of the hall in Tychy, where they tied with Cyprus 2:2 (1:0).
---
Since the first minute, the white and red team launched an attack and quickly, as soon as in the 6. minute of the meeting, they took the lead. Igor Sobalczyk showed off an atomic kick with his right leg and the ball fluttered in the net.
The lead calmed down the Poles a bit and with time the Cypriots were getting their chance to shine more often. In the 16. minute, action-ending Savvas Omirou hit the goalpost and just before the half-time, Krystian Brzenk defended Markos Ioannou's dangerous shot.
The second half brought a sensational start for the Polish team. Igor Sobalczyk demonstrated another excellent distance shot and the Poles were 2:0 in the lead.
Unfortunately, Andrea Bucciol's players did not have much time to be happy about their two-goal lead. Georgis Alexiou exploited a misunderstanding between Brzenk and Sobalczyk with cold blood and placed the ball into the empty goal.
The Poles should have scored their third goal in the 25. minute. However, Artur Popławski hit the goalpost and after a moment, a ball shot by Michał Marek at a close distance landed in the goalkeeper's hands.
At the end of the game, the Cypriots launched an attack and their goalkeeper, who eventually became the hero of the game, was responsible for playing the ball. Anastasions Skampylis managed to take advantage of the chaos near our goalpost and with beautiful volley shot equalised the game.
The Polish team had a chance in the last seconds of the match, but eventually they weren't able to tip the balance in their favour.
Poland – Cyprus 2:2 (1:0)
Goals: Sobalczyk (6. i 22.) - Alexiou (22.) i Skampylis (39.).
Poland: Brzenk – Sobalczyk, Milewski, Krawczyk, Budniak – Kubik, Śmiałkowski, Gepert, Mikołajewicz – Popławski, Jurczak, Dura, Marek. Coach Andrea Bucciol.
Cyprus: Skampylis – Papadopoulos, Alexiou, Yazmadjian, Christodoulou, Ioannou, Omirou, Christodoulou, Leivadiodis, Kouloumbris, Christodoulou, Lakoufis, Toumazis. Coach Ioanis Mylonas.